There are big signs all over the park that say "DO NOT FEED THE WILDLIFE" but yet here we are,watching the car in front of us feeding the wild mules. Obviously a lot of people feed them because the mules were lined up along the road waiting to be fed.
A cute baby mule staying back from the road.
My only pronghorn sighting. It was far away in a field. This is the fastest land animal in the United States. It didn't move an inch while we were there.
The herds of buffalo were far off the road.
More bighorn sheep. We found this herd at the Blue Bell lodge in the park. They were wandering close to the parking lot.
My only upclose buffalo sighting. We were able to pull off to the side of the road here and take it's picture. We found it all alone and near the exit to the park.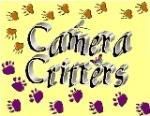 Camera Critters