Little blue heron standing on the boardwalk rail. He didn't want to move. I finally walked around him.
"Yea! The kingfishers are back. Still haven't seen the one in my neighborhood yet but it's still early. Not a great shot because they are really skittish here.
Boring ole blue jay watching me.
Hawk flyby.
My first alligator sighting at this park.
Cute caterpillar.
Another walk around Kapok Park after work. It's getting dark earlier so I only had a little over an hour before the sun went down behind the trees. I was hoping to see the red tailed hawk again but could only find a red-shouldered hawk soaring overhead. Two kids on skateboards asked me if I had seen the alligator swimming in the middle of the lake. I'm thinking to myself "In the 3 years I've been coming here I've never seen an alligator." I said to them "No, I haven't." They were so excited to point him out as he swam right towards the dock. It's amazing how alligators are so mesmerizing to kids. I don't know how long he's been in the lake. I always thought the baby duck count never seems to go down here like at other lakes. Maybe he's fairly new.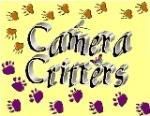 Camera Critters