"Head's up guys, here comes someone with a camera"
"I'll do my mean body shake and scare her away."
"Maybe if I flap my wings she'll leave."
"Forget it, she's not leaving. Just keep eating."
"There's good bugs over here."
I had read on
Pinellas birds
that there was a Canadian geese sighting in the cemetery down the street from my office. I threw my camera in the car and was able to drive through there after work recently. It's a small cemetery right off a busy road. I drove around a little bit and quickly found the flock. They were so close to the road that I didn't even get out of my car. I just snapped the above quickly and left. I don't know if they'll continue south or stay here for the winter. I'll check back in a few weeks to see if they are still there.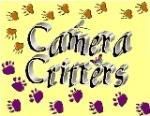 camera critters